NEWS
DELEGATES : GET YOUR TICKETS TO ADFEST 2019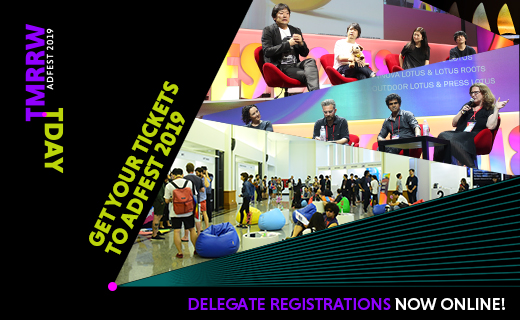 It's time to start planning your next trip to Thailand! ADFEST is now selling tickets to next year's festival, which runs from 20th March to 23rd March 2019 at PEACH Royal Cliff Resort, Pattaya, Thailand.
Choose between Full Delegate, Young Delegate (for those 28 or under) and Student packages for the full four-day festival, or attend either of two streams: Craft@ADFEST on 20th – 21st March, or Creative@ADFEST on 22nd – 23rd March. Each package includes access to all seminars and workshops, exhibitions and screenings, parties, award ceremonies and a festival welcome kit.
Vinit Suraphongchai, Chairman of ADFEST, says: "ADFEST is a non-for-profit organization and we believe passionately in our role to nurture and support the creative industry by offering discounted tickets for students and younger creatives who are just beginning their careers.
"Anyone who has attended ADFEST knows that the atmosphere is uniquely friendly and approachable. It doesn't matter if you're Grand Jury President, an ECD or a junior creative. Everyone is equal and welcome to share their ideas at ADFEST."
For the first time, ADFEST has introduced the Family Pass, which allows family members of registered delegates to attend ADFEST's infamous social functions. Only family members of registered delegates are eligible, and the Family Pass excludes access to seminars, workshops and exhibitions.
The Craft@ADFEST stream will dive deep into the latest production, digital, content and technology trends, while elevating the role of producers, directors, digital creators and VFX artists by celebrating their craft.
Creative@ADFEST is all about creativity – the DNA of ADFEST – and will focus on inspiring and pushing the boundaries of the creative and communications industry in the region.
ADFEST 2019's online registration system is now live. For more details about registration fees and packages, or to book tickets, click here