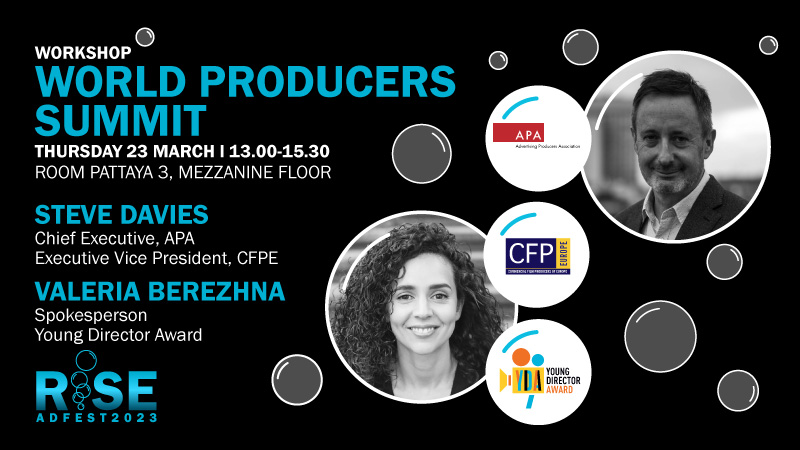 ABOUT THE WORLD PRODUCERS SUMMIT
Do you own, run or hold a senior management position in a production company? Then this is your opportunity to come and learn from producers around the world – about the challenges you all face and the new opportunities that are emerging.
Knowledge you can factor into your thinking about your own business to maximise the opportunities for you in your own market.
Agencies and the biggest advertisers are global in their outlook and new ways of working they introduce in one country soon spread around the world. For producers, this is a chance to get ahead with your knowledge. Is there something happening to the business in the US? China? The UK? Or Brazil? that will come to affect your market and how can you be ready for the opportunities that might bring?
The World Producers Summit provides a forum for production company owners and stakeholders to gather and discuss specific issues they have encountered as the industry continues to evolve and globalize. This forum offers every attendee the unique opportunity to gain valuable insights from their peers, as well as possible solutions to current and emerging business challenges.
The Summit's mission is to convene a series of forums for the global community of motion image producers, with the goal of finding solutions to common issues. Convened for the benefit of the region's top producers, the forum will help connect the community to the global production community.
Steve Davies
, Chief Executive of the Advertising Producers Association (
www.a-p-a.net
) and Executive Vice President of the Commercial Film Producers of Europe, CFPE (
www.cfp-e.com
), will chair a summit for production company owners attending ADFEST 2023 along with the guest contributor
Valeria Berezhna
– a spokeswoman for Young Director Award and an experienced Producer from Ukraine who will replace Francois Chilot this year.
Don't miss the unique opportunity to share intelligence on the changing market and production issues and vital intelligence for production company owners in their business planning.
The World Producers Summit takes place in Cannes every June and is created by the AICP, CFPE and APA.
THE WORLD PRODUCERS SUMMIT
Date:
Thursday 23rd March 2023
Venue:
Room PATTAYA 3, Mezzanine Floor, PEACH
Remark:
Pre-registration is required
ELIGIBILITY & REGISTRATION
Interested applicant must be:
A registered delegate of ADFEST 2023
A Producer from a production company or agency (with only one representative per company permitted)
This Summit is open to 40 producers from production companies and agencies, to promote an informed discussion about the opportunities and challenges ahead
Reservation is strictly first-come-first-served & registration is free of charge
To register, please click
here
and complete the online registration form
Registration is not confirmed until you receive a confirmation notification from ADFEST
For more information, contact Workshop@ADFEST.com
< TO 3-DAY PROGRAM