SPEAKERS : TAKE THE STAGE AT ADFEST 2024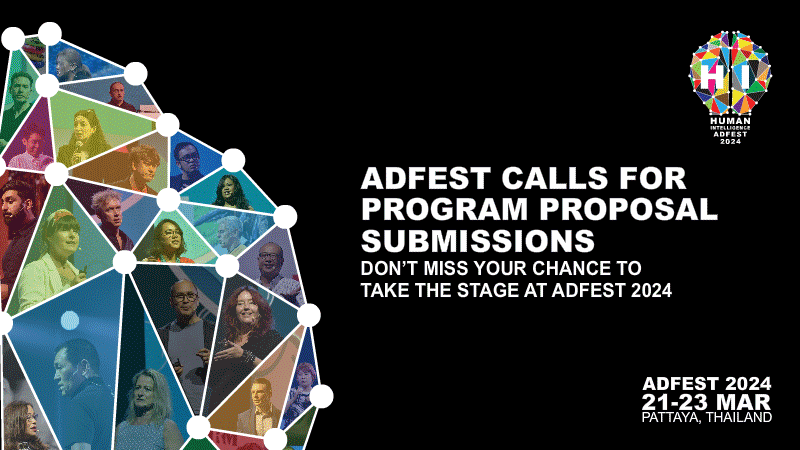 ADFEST CALLS FOR PROGRAM PROPOSAL SUBMISSIONS:
DON'T MISS YOUR CHANCE TO
TAKE THE STAGE AT ADFEST 2024
ADFEST is now calling for program proposals from industry leaders interested in sharing their knowledge of inspiring, thought-provoking, and boundary-pushing content at ADFEST 2024, held Thursday 21 – Saturday 23 March 2024 in Pattaya, Thailand. The deadline for program proposal submissions is 30 November 2023.
ADFEST said HI earlier this week, introducing its 2024 theme of "Human Intelligence," which emphasised the indispensability of human wisdom in the age of AI. The rise of AI is not a threat. It is an opportunity for us to expand the possible, powered fundamentally by the Human Intelligence. We grow and develop with our uninhibited creativity.
"We're looking for inclusive, transformative, inspirational, innovative, game-changing, and call to action content that will blow the minds of our delegates. To leave our delegates in awe, inspired, and spark their passion to push their creativity to the next level. If you're up to the challenge, we want to hear from you," says Vinit Suraphongchai, Chairman of ADFEST.
ADFEST is calling for content submission to complement its 2024 theme of "Human Intelligence" or HI. Proposal are being accepted for its 35-minute keynote speaker sessions in the main stage as well as longer, collaborative and interactive workshops with more direct involvement throughout the festival. Proposals must be submitted online by 30 November 2023 and successful submissions will be notified in January 2024.
Please make sure you read through the Program Proposal Guide before submitting your program proposal. Please note that ADFEST only provides complimentary passes for its speakers but does not reimburse T&A costs.
For more information or to submit your proposal online, click here or contact Sessions@ADFEST.com for more details.
ADFEST is a non-profit-making entity that believes passionately in its role to nurture and support the creative industry in the Asia Pacific and MENA region. It is one of only 8 regional creative festivals included in the WARC Creative 100 Rankings.
ADFEST will call for entries for its 2024 Lotus Awards soon, so watch this space and stay tuned.
Join us to say HI with heart at ADFEST 2024 on 21-23 March in Pattaya, Thailand.