FESTIVAL : DISCOVER WHAT'S NEW, NOW AND AHEAD OF ITS TIME AT ADFEST 2023 PRODUCTION HUT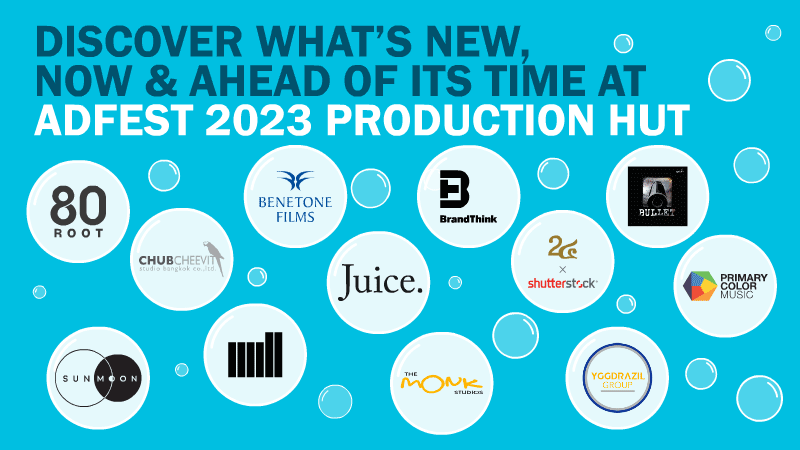 Flex your craft muscle, get connected and expand your network. The ADFEST 2023 Production Hut features a collection of the region's top production companies, who will show off their craftsmanship. Discover how craft can advance and support the success of your brands and projects, from the newest and most advance craft tools and services to the best of the tried-and-true.
Be sure to check out these top of the line production-related companies at ADFEST 2023, which runs from Thursday 23 to Saturday 25 March 2023 at the Pattaya Exhibition and Convention Hall (PEACH), Royal Cliff Hotels Group, Pattaya, Thailand.
CHUBCHEEVIT
Chubcheevit Studio team of experts always ensure to deliver products and services compatible with clients' requirements. After all, for us, the client is alway right!

Extremely customer focused, our team of experts comfortably work with tight deadlines. At Chubcheevit Studio we hold a wide variety of professionals, with different types of expertise; this way our client can be sure to have the right person working hard on their product of service.
JUICE
Juice blends VFX, 2D/3D animation, Unreal Engine creations, original score, sound and visual design, brand identity, mixing, and postproduction to produce moving experiences in film, audio, and digital spaces. Our tight-knit family of directors, composers, artists, and dreamers has helped transform and redefine work for NETFLIX & HBO, BMW & Mercedes, Coca-Cola & Nike, Virgin Mobile & Dolby, Sony Entertainment, CD PROJEKT RED, or the BBC. We're suckers for how big ideas look and sound, and we've traded many a weekend for sweating out the details that make them come alive. Cosmopolitan, shapeshifting, award-winning, Juice.
Offices: Wroclaw, Warsaw, Tokyo, and Shanghai, with over 100 people on board.
NUMBER 24 X SHUTTERSTOCK
Discover Number 24 x Shutterstock, the ultimate digital content solutions provider in Thailand, an Official Licensed Partner of Elevate your creative game with cutting-edge AI technology for high-quality images, videos, and music for all your Explore endless possibilities with Generative AI and choose from over 450 million updated content in seconds.


Let us help bring your ideas to life and achieve your creative goals. Contact us to learn more about our services and unleash your creativity with Number 24 x Shutterstock today.

"Creativity at the Speed of Your Imagination"
Talk to us now!
PRIMARY COLOR MUSIC
Primary Color Music is a US-based custom music house with locations in Kansas City, Denver, and an international branch in Tokyo. With sister companies The Garden (a licensable music library) and The Post Haus (doing sound design, audio mix, voiceover, and foley) we are a one-stop-shop for all audio needs. We've been in the business for over a decade and have worked with the world's top agencies and brands - Starbucks, Google, Leo Burnett, Amazon, Dentsu, Coca Cola, TBWA, to name some. Our team is excited to meet your team. Let's make something amazing together.
https://www.primarycolormusic.com/work-home
THE MILL
We are the Mill.
A global creative studio comprising of the best talent in the fields of creativity, direction, VFX, experiential, colour and design.
For more than 30 years we have partnered with production companies, agencies and brands to create extraordinary visual experiences to be enjoyed on any screen. We have studios in London, New York, Los Angeles, Chicago, Paris, Berlin, Amsterdam, Shanghai, Seoul and Bangalore.
Thailand's Department of International Trade Promotion, Ministry of Commerce, Thailand, is making a special appearance at ADFEST Production Hut, bringing 7 leading Thai production-related companies to the DITP Pavilion to show the broad range of Thai production-related tools and services available in the country. Among these are:
80ROOT
Founded in 2010, we offer a comprehensive suite of digital development service. Our services are integrated and focused on delivering the solution your organization needs. 80Root specializes in the digital publication at a reasonable prices or accomplish more ambitious projects like the creation of an entirely new digital publication.
We're Digital Branding Agency. We provide complete ecosystem for creating and distributing contents to apps on mobile device.
BENETONE FILMS
Benetone Films is a creative production company with a passion for creating diverse, multilingual content that connects with audiences on a global scale.
For the past 20 years, we have developed privileged relationships with local and international brands, agencies and production houses who give their trust to Benetone Films to produce cost-effective, high quality commercials and digital content.

BRAND THINK
CONTENT CREATOR
FOR A BETTER TOMORROW
BrandThink is an all-in-one content platform/service, focusing on creating inspiring content and joining forces for positive change with the concept of "Create a Better Tomorrow", which stimulates great thoughts, fun, and easy to understand, with the goal of creating positive changes for oneself and society.
We integrate services from 5 business units, known as '5C', into one-stop communication, consisting of End to End Communication, Content, Commercial, Cinema, and Community.
BULLET
WHO WE ARE
BULLET is Thailand's leading production and production service company established since 2009 with over 13 years industry experiences.


WHAT WE DO
We PRODUCE Television Commercials, Branded Content, Music Videos & Corporate videos across a multitude of disciplines - Car, Beauty, Food, Table Top, Animation, SFX.

BULLET also REPRESENT internationally highly acclaimed directors. Their works have been recognised on the some of worlds most prestigious platforms; D&AD, Cannes Lions, Spikes Asia, ADFEST to name but a few.

We have offices in 3 countries; Bangkok, Thailand: Manila, The Philippines : Los Angeles, USA.
SUN AND MOON PRODUCTIONS CO.,LTD.
We are production company base in Bangkok. But, we are not bound by geography.
We believe in the perfect balance between art and commercial.
ART is respected and critically acclaimed.
COMMERCIAL is appreciated and acknowledged.
Our service is the perfect combination for those who value both ends of the spectrum.

Our skillset can apply to various forms of moving images such as features films, commercials, music videos, TV series, and documentaries, etc.
We dream big. We work hard. We're up for the challenges!
sunandmoonbangkok.com
THE MONK STUDIOS
The Monk Studios is an award-winning animation and visual effects studio headquartered in Thailand, with branches in China and India. Our specialty is producing world class imagery using highly skilled artists and cutting-edge technology. We are storytellers on a mission to entertain our viewers around the world!
Providing animation and VFX services for film, T.V., and commercials, our list of partners and clients includes DreamWorks Animation, Netflix, Sony Pictures Animation, Cartoon Network, Paramount Pictures, Square Enix, Amazon Prime and many more. With a team of over 350 experienced artists and growing, we welcome all jobs large and small.
YGGDRAZIL
We are one of the top Visual Effects (VFX), Animation, VR studio in Bangkok, Thailand. Which provide full post production services and production support for commercials, feature film, and game, cinematic, tv series, VR360. With an extremely talented artists and high-end equipment to deliver work beyond the global success.