SPEAKERS : CARLY STONE, CO-FOUNDER OF MADAM FILMS: "THROUGH 10 YEARS OF GLOBAL CHALLENGES WITH A SMILE AND SOLID REPUTATION"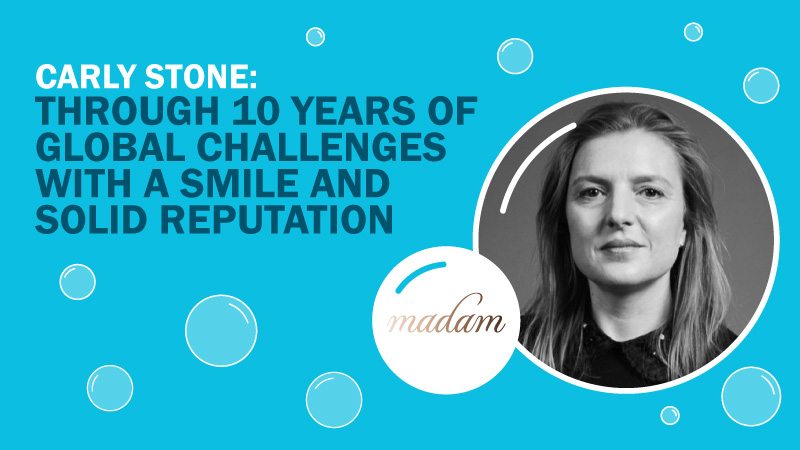 Carly Stone, a founding partner of Madam Films in London, is bringing her understanding of the importance of sustainability in production to ADFEST. She will be joined by Anna Hewitt, Madam Sustainability Coordinator; Gabi Kay, co-founder of Green The Bid, Claire Wilkie founder & managing director of Limitless Broadcast and Rob Payton, Robert Payton, Cinematographer and Virtual Production Consultant. Their session, "2023, the year of travel…but at what cost", will explore why production methods need to evolve and how to make that happen.
Madam was founded by three women, to enable them to do their jobs while also being mothers. The company has already evolved to adapt to meet a changing production environment after Covid, including pressing sustainability needs, and has a very clear idea of the factors that have made it successful. Carly describes all of this and more in her Q&A with ADFEST.
Madam Films was launched by three women. That would have been brave ten years ago. What was your vision?
Our vision was to build a company that could work around our families. We started Madam as my first daughter was born. It was imperative that we could work in production and do our jobs we cared so much about, but under our own terms. A deep understanding of motherhood, its challenges and the support that we gave to each other were fundamental. My career journey and experience of UK production companies has always championed successful women MDs, so I didn't know any different.
My partner, Michelle, previously set up Brave, a female run production company that represented top female directors. This set a good foundation for where we wanted to take Madam.
Pivoting the business to service production after three years from a traditional production company, gave us a voice to the global market. My partner, Pippa, had previously worked in both the UK and international market. Letting go of directors was the turning point for Madam and our focus has been welcoming international clients to the UK for any level of production support.
There have been pushes like Free The Bid to make women equal. How hard is it for women in production now?
Over the last few years, the conversation about parity and inclusivity has been forefront across the industry, allowing more changes and opportunities to open up that would traditionally be gender specific. Training is key to allow the next generation of all production crew to be able to explore any role that they are drawn to and to break away from the stereotyping of crew.
Brands and agencies are taking more responsibility and interest in who they are employing and collaborating with across many levels. Twenty years ago, I was producing for one of only a handful of UK-based female directors, and all we received were baby and beauty brand scripts. Thankfully this has improved, but it has taken a really long time and still can be difficult to change creative mindset and habits.
The female talent out there is outstanding and inspiring journeys and accolades, such as those of Somesuch director, Kim Gehrig, (recently Best Commercial Director of the Year at the Directors Guild of America Awards), give those coming into the industry a clear strong message of what is achievable.
What have been the greatest challenges for Madam the last two years?
2021 was a chaotic year in the UK for production. A good chaotic. It was bursting at the seams with productions of all kinds catching up from the Covid pause. A record number of TV dramas and features were being shot across the UK and the big networks took a lot of our crew, equipment and facilities for their long form projects. In order to keep our clients shooting in the UK, we had to have very transparent conversations about the situation giving them strict deadlines. For fast turnaround jobs, we had to hire more production staff in order to achieve the basics of getting a crew together - agents were taking days to reply and crews were back-to-back on shoots.
Covid still consumed every client conversation. There was a huge increase to the amount of work required prior to the job confirming, various bids, multiple schedule versions, options of testing, contrasting global CV protocols. The work load was intense before the pre-production process had kicked off and of course you are not charging for this bidding, yet it was all consuming and adding approximately 80% of time on top of the normal pitching process.
MDs, producers, insurance, crew unions were all navigating this new CV19 protocol world together, an abundance of admin, guidelines, seminars, and sharing of information and processes to keep on top of.
Keeping our crew safe, healthy and happy is of upmost importance and the foundation of how we have grown Madams brand and reputation. As a leader during this time, there was a huge amount of pressure to make the right decisions and educate.
What do you think are your greatest successes?
Our company ethos: What our brand means to us and how we have communicated that to our crew and clients. We are passionate partners, who love the industry, our company and really give a shit about a positive experience for all, we have learnt that can be set back in business, but it's in our nature :)
Cultural co-working: As a service company we are working with different cultures, time zones and often producers/directors who we have never met. Understanding global production territories/infrastructure and their expectations is key, as well as our ability to deal with many personalities. Throw the contrasting types of clients into the mix as well, you have to wear different hats and respond accordingly to their requirements.
VIPS: The three partners had all worked with many VIPs prior to starting Madam, however our list has grown significantly and shooting with A* talent has been something that seems so standard to us now. Clients are often misinformed about their brand ambassadors' habits, protocols and timelines, and can be nervous or panicky as things change. Keeping everyone calm on and off set is recognised in both the finished product and the repeat clients and testimonials.
Mentoring & Support: Giving back and assisting those trying to enter the industry is a big deal for us. Kindness and knowledge are free and we have a responsibility to use this and care. We are also grateful every day for the network of talented people we have the honour to work with, support is there on every level and being part of such an incredible global community is mind-blowing.
Adaptation: I am super proud of how we have traversed through 10 years of global challenges and continued with a smile and solid reputation. Ideas have come and gone, failed and succeeded and we have met some incredible contacts on our path.
How has the need for sustainability impacted your business?
Our sustainability goals involve serious invested time and research, I have been involved in panels, seminars and worked with companies like Green The Bid on production guidelines.
A presentation I attended by a BBC production climate adviser shocked my core and I knew that the need for change had to come from the Madam partners as opposed to waiting for the industry to guide. Adgreen was instrumental in providing tools and awareness and Albert was already paving the way with long form productions, but there was no tool of measuring our short form productions carbon impact to track and progress.
Once we had made our eco policy, we created our own production carbon calculator, which really affected company decisions, including cancelling a key global event we were associated with that would have had a huge carbon footprint.
It questioned the type of clients and brands we want to work with and gave us the power of saying no to those that do not morally sit with our ethos, and importantly gave us the opportunity to explain our decision to those clients.
Conversations with existing suppliers, HODs and researching new greener suppliers were a great process and continue to evolve. It takes constant fierce leadership driving the company policies and ensuring they are being met. In order to really want to make a difference to operating a greener business, you have to believe in the cause, change your habits, lifestyle choices and there is a huge community out there who share the same vision. Having this drive to do better, learn, educate and put sustainability at the forefront has been a powerful change in both the business and personally.
I am no activist or climate crisis expert but have genuinely embraced and embarked on Madam's Planet Positive Production and have been able to assist others within production, which is very rewarding. Business owners have responsibility, influence and opportunity to share knowledge, experiences, tools, resources and consider the planet, not just profit.