SPEAKERS : RICA FACUNDO, WARC ASIA EDITOR: "THERE'S MORE TO EFFECTIVENESS THAN DELIVERING AN INFLUENTIAL IDEA"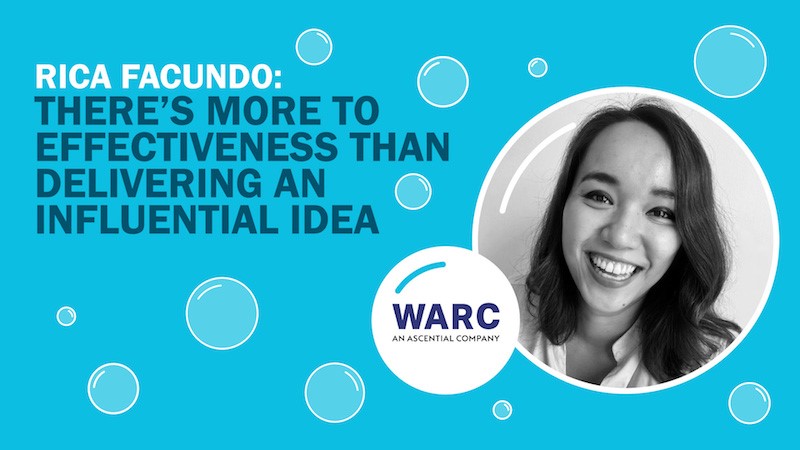 With a background in content, cultural & brand strategy, and human-centred design research and ethnography, Rica Facundo has a remarkably broad understanding of advertising and marketing. She has more than a decade of experience working in agencies and publications such as Publicis, Saatchi, Iris, and Rappler. She also speaks and consults with major trend-watching publications, trade bodies, and awards festivals. Rica is part of the inaugural batch of Spikes See It Be It program for Female Leaders in 2019 and outside work, she founded Rising Sideways - a community, content and coaching platform on how to reinvent and future proof your career.
At ADFEST, Rica is delivering the very enlightening WARC Creative session, "Trends from the World's Most Creatively Effective Campaigns". She offers a little preview in her interview below:
Your career has taken a number of turns – journalist-strategist-researcher. What are the common threads, what is it that drives you?
I firmly believe in taking a holistic approach to cultivating what you love and developing, applying and mastering your skills from different angles. It's akin to being fluent in multiple languages or cooking different cuisines, but at the core you're just flexing different versions of communicating or cooking, depending on the context.
For me, the common thread in my career is doing work that enables me to tell stories (my own and others), as well as satisfies my innate curiosity. While my younger self might have stubbornly thought that being a journalist was the only way to do it, over time I've realised how being in advertising has honed that craft in ways I might not have been able to if I stuck to the box. Being a researcher and strategist has made me appreciate that storytelling comes in multiple formats (a killer deck, a compelling creative, etc), and has the power not just to inspire, but persuade, sell and become tangible in people's hands.
You were also an inaugural member of See It Be It in Asia. How has the role of women in advertising in the region changed since then in your view? What do you think are the main obstacles women still have to conquer?
I've been really lucky to have been surrounded by really strong female leaders in the agencies that I've worked for and clients I've worked with. Over time I've seen more women coming up to senior positions and more awareness happening, but wider cultural norms (beyond the industry) across a really diverse market like Asia still have an impact in breaking the glass ceiling. However, I do believe that the awareness and having the language to now call it out and talk about it productively will enable change to happen at a faster rate.
What do you think are the biggest campaign mistakes that undermine effectiveness?
Because of my background as a cultural strategist and researcher, my answer is biased towards not having a more nuanced understanding of the consumer you are trying to reach and the local context that the brand operates in that will help to amplify impact. Back then I remember I was hired to get strategists and clients to stop relying on surface level insights that you can Google and to actually get out there and experience the world the consumer is inhabiting.
But ever since joining WARC, I've come to appreciate the different levels of effectiveness beyond just delivering an influential idea that achieves campaign metrics. Delivering effectiveness is ultimately about showing how advertising can provide a commercial return on investment, for example, a sales spike or change in consumer behaviour. Part of this is ensuring that you're setting the right objectives and budgets based on structural conditions such as brand size and category dynamics that gives your campaign the best chance at success.
Does a campaign have to be liked to be effective?
Great question. Being liked is subjective. Being effective is being objective about delivering against your campaign objectives and who you're trying to reach. Your campaign might make people mad or "boycott" your brand, but are they even your target audience? Was the brand's objective to start a cultural conversation to resonate with a wider group of people? If brands know what they're trying to achieve in the long run, they can be bolder with their choices, stay the course and not be distracted by detractors. That being said, brands should also keep their eye on these detractors, because the cultural tide can easily tip and not in their favour.
What are the main factors that influence a campaign's effectiveness?
One of WARC's key IP's is the Anatomy of Effectiveness. There are five key factors that influence a campaign's effectiveness, under two pillars of Creative Commitment (i.e. budget, duration, channels) and the Message itself (i.e. creative and brand strategy.) Together, they supercharge creative effectiveness.