SPEAKERS : ADFEST UNLEASHES MORE CREATIVE INSPIRATION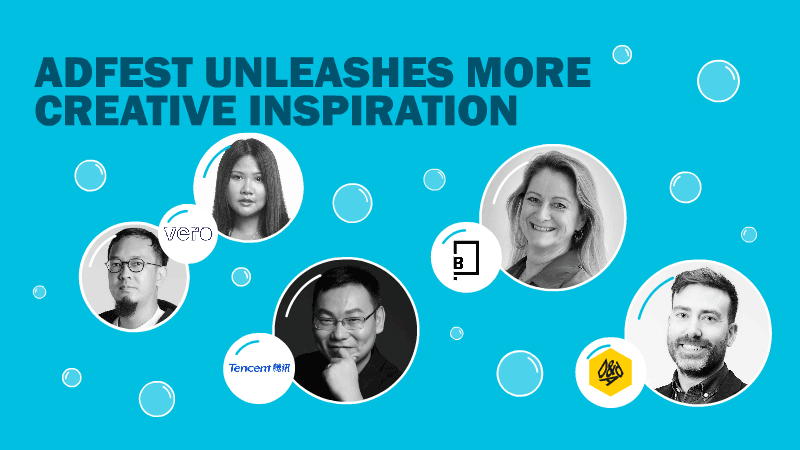 ADFEST announces more creative sessions in its 3-day festival full of inspiration and ideas, that runs from Thursday 23 – Friday 25 March in Pattaya, Thailand. Do you need to change for the future, preserve cultural heritage through technology, pave the way to creative excellence, or define creativity? These sessions are musts to attend.
THURSDAY 23 MARCH, 10.40-11.15
"ADFEST 2033: Getting There Together Safely"
Umaporn Whittaker-Thompson, Group VP Consumer Communications (Thailand), Vero, Bangkok
Vu-Quan Nguyen-Masse, VP Culture (Asean), Vero, Ho Chi Minh
The need to curb global warming and other damaging effects of climate change is urgent. Vero's Umaporn Whittaker-Thompson and Vu-Quan Nguyen-Masse will outline how the next ten years will critically impact the practice of communication for agencies and their people. We all need an optimistic outlook in times of climate anxiety. This session is a story of how Vero thinks our efforts can lead to the better outcome.
The Vero team will explore the evolution of corporate sustainability and its communication towards less jargon and more evidence-based conversations; moving away from greenwashing and towards hyper-local digital engagement; the mutation of influencer marketing away from influence and towards alternative consumption; and the role of champions in driving sustainable efforts within agencies and companies, including testimonials about the Vero team's projects that reveal sharing how Vero, as an agency is addressing sustainability.
Umaporn is the leader of the Consumer Communications team at Vero and a team leader committed to progressive management culture. She also works with multiple global brands and has a background in managing clients from consumer tech and lifestyle accounts such as Electronic Arts, Estée Lauder and Nestlé. Vu-Quan leads Vero's Culture practice, and was instrumental in obtaining the agency's two first commendations as Best Place to Work in APAC. Vu-Quan is keen on developing collaborative cultures by engineering governance, management and leadership programs, advising founders and leaders to help them develop excellence in their business. Vu-Quan also finds time to lead a magazine named V2X, exploring the emerging sub-cultures in Vietnam.
THURSDAY 23 MARCH, 15.40-16.15
"Technology Drives Chinese Cultural Heritage Preservation to the Forefront of the Digital Era"
Vincent Li, Vice President, Corporate Marketing and Public Relations, Tencent, Shenzhen
How do you transport yourself instantly from a remote corner of the world to the hinterland of northwest China to admire the ancient Dunhuang Caves and its remarkable murals? When you live on the Loess Plateau, how do you whisk yourself to the Great Wall and touch the bricks and stones that have borne witness to pivotal moments in history? Tencent has put abilities like these in the palm of people's hands, harnessing technological expertise to create new digital experiences of Chinese cultural heritage that can be accessed through a mobile phone.
Vincent Li will share insights on how Tencent works as a digital assistant to support cultural heritage institutions and popularise Chinese traditional culture. He will highlight the combination of creative ideas and immersive technologies that fuse real and virtual worlds through photo-scan modeling as well as game engine and real-time rendering technologies, while connecting young people with cultural treasures from the past.
Vincent Li joined Tencent in 2015 and is responsible for corporate marketing and public relations. He is also the primary person in charge of public relations and intelligent platform marketing for Tencent's Platform & Content Group and the Financial Technology business unit. In partnership with the Forbidden City and the Mogao Caves, Vincent has launched a number of industry-defining initiatives such as the Digital Forbidden City, the Mogao Caves Cloud Museum and the Digital Library Cave of Dunhuang with the aim of preserving cultural heritage. He has also established strategic partnerships with various brands to co-create innovative programs such as 99 Charity Day, National Youth Coding and AI Program, Master Classes for Youth, Tencent Youth Science Fair.
SATURDAY 25 MARCH, 10.05-10.40
"What Is the Path to Creative Excellence?"
Emma Wilkie, Awards Director, Little Black Book, London
The advertising industry continues to evolve rapidly so it's more important than ever to understand how the industry identifies, applauds and awards ground-breaking creative ideas. This session will take an in-depth look into why four outstanding projects, for four distinctly different clients, were awarded their Immortal status. It will reveal the lessons that can be learned from those involved in the process and their approach to bringing the creative briefs to life in such a unique and memorable way.
Emma started her career in the creative department of DDB London before she began her pursuit of honouring creative excellence globally. As co-founder of Flaxman Wilkie, she became publisher of The Gunn Report. From 2007, Emma took a leading hand in transforming The Gunn Report to a globally recognised authority and benchmark for best-in-class advertising. In 2019, she also oversaw The Gunn Report's transition to new ownership and its relaunch as the WARC Creative 100. She is now co-director of The Immortal Awards @ Little Black Book – LBBOnline, using her in-depth knowledge of local, regional and global advertising excellence to strengthen the Immortal Awards.
SATURDAY 25 MARCH, 16.15-16.50
"What Creativity is Made of"
Donal Keenan, Awards & Festival Director, D&AD, London
The winners of the D&AD Awards represent a plethora of disciplines - a huge variety of ideas, crafts and executions, spanning animation to writing, commerce to side hustles. They can't be reduced into a neat set of trends. No single narrative thread runs throughout. In his session, Donal will explore the themes, the series of commonalities that allow us to group very different campaigns to find insights into what's going on behind the creative process. Insights that help to understand what creativity is made of. Because every creative wants to excel.
Donal has spent much of his career at D&AD, having started there in 2007. He has worked his way through the awards team to become Awards Director of D&AD's Global awards programme, as well as heading up the relaunch of the D&AD Festival in-person for the first time since 2019. Donal has overseen many developments in the expansion of the Awards programme, through the additions of Gaming and Virtual Worlds in 2021, public relations and media awards in 2017 and the development and running of the D&AD Impact Awards that launched in 2011.
ADFEST is a non-profit-making entity that believes passionately in its role to nurture and support the creative industry in the Asia Pacific and MENA region. It is one of only 8 regional creative festivals included in the WARC Creative 100 Rankings.
Save the date of 23 – 25 March 2023 and RISE with us at ADFEST 2023. For more information, visit www.ADFEST.com