JURIES : ALI REZ: ADFEST'S GRAND JURY PRESIDENT ON WHAT IT TAKES TO DAZZLE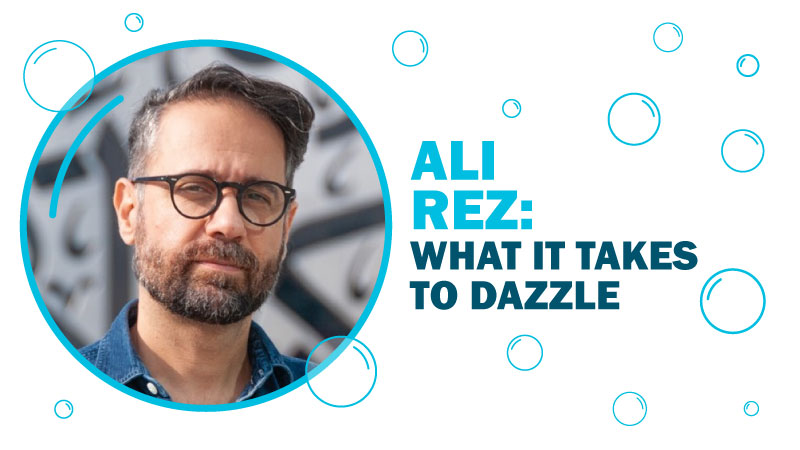 Ali Rez is the most awarded creative leader in the Middle East. The Chief Creative Officer of Impact BBDO Group MENAP has been appointed as Grand Jury President for ADFEST 2023. He will also contribute to ADFEST as Jury President of Effective Lotus and Entertainment Lotus and a keynote speaker. As Grand Jury President, Rez will lead the panel of Jury Presidents judging the INNOVA Lotus and ADFEST's unique award celebrating cultural diversity, the Lotus Roots.
Ali talked to ADFEST about what it takes to be successful in the whimsical but also wonderful industry called advertising and what he expects of the work that wins at ADFEST this year.
ADFEST: What drew you to advertising as a career and what do you think are the most important "ingredients" in your rise to the top?
Ali Rez: I fell into advertising by accident when I took on a design intern position at a local ad agency, but where I spent most of my time making tea for creatives. However, that's where I really got my first shot at this. I loved the terrifying thrill of coming up with ideas, and then seeing those turn into executions displayed for millions of people to be influenced by. The draw of the chaos of creativity and the rush of the "a-ha" adrenaline-flooding moment was as intoxicating then as it is now.
Fortune has played a big role in this journey. I was very fortunate to cross paths with people that helped me rise. This is key, and I would've been nowhere without this. From people who gave me the opportunities, to people who mentored me, to people I learnt from, to people on my team, all were vital in this journey.
ADFEST: What do you think are the most important ingredients for campaign success?
Ali Rez: For me, a campaign has to respect its audience to really be successful. That means we have to deliver something that is engaging, entertaining, and/or surprising. Give them something new. Something memorable. Something they appreciate spending their time on. Something they talk about with others. The worst campaigns are those that treat their audiences as if they are dumb. We have known for decades that consumers hate advertising and being interrupted by bad ads. Successful campaigns take this knowledge seriously. I don't think a campaign is truly "successful" if you've spent millions trying to force your audience to see it, rather than them actually wanting to see it.
ADFEST: Of all the campaigns that you have worked on or led, which stands out as the one (or ones) you are most proud of?
Ali Rez: I think two stand out for personal reasons. Not A Bug Splat was ground-breaking in the scale it achieved, and the impact it had – a gigantic portrait poster of a child lain down in an area where innocent children were dying in drone bombings so that drone operators could view her through their camera. A $900 campaign earning $185 million of free media is testament to the fact that a big idea will find its way to everybody. We literally risked our lives to make this campaign happen, and it was worth it.
The other campaign I love is the recent Elections Edition, a bold stand taken by a very bold client who instead of printing their newspaper, donated the paper and ink so that election ballots could be printed. It was a remarkable project to be part of, especially because I absolutely love Lebanon and her people.
ADFEST: Creativity in the MENAP region seems to have surged in the last few years. Why do you think this is so?
Ali Rez: There has been a very steady and consistent rise in creativity and quality of work over the last decade in the MENAP region. 2022, for instance, was the first time the UAE broke into the Top 10 Most Creative countries ranking on the Cannes Lions Creativity Index. IMPACT BBDO has already seen themselves at the No.2 spot in the world on the WARC Creative 100 list.
Several reasons come to mind. The region is fully geared up for the future and is evolving rapidly, placing all the necessary building blocks needed to achieve this ambition to become the very center of the world, leading in innovation, technology and creativity. This requires an open-minded approach to creativity and problem-solving, which the region has in abundance. Not only has a lot of global talent moved to this region to become part of this fantastic journey, but local talent has also stepped in to lift the industry exponentially. There is a lot of support from all corners, including the government. And you see this reflected especially in the communications industry.
ADFEST: What will you be looking for the judging rooms over which you are presiding this year?
Ali Rez: As always, the aim is to be dazzled. To be amazed by original thinking, astute problem-solving, incredible craft. To make me feel jealous and wish I had done that work. It is always a joy for a juryperson to come across thinking they have never seen before, and I believe that's going to be what we will be looking out for.