NEWS
JURIES : CLAUDIA CRISTOVAO OF GOOGLE & KENTARO KIMURA OF HAKUHODO COMPLETE THE ADFEST 2022 JURY PRESIDENTS LINE-UP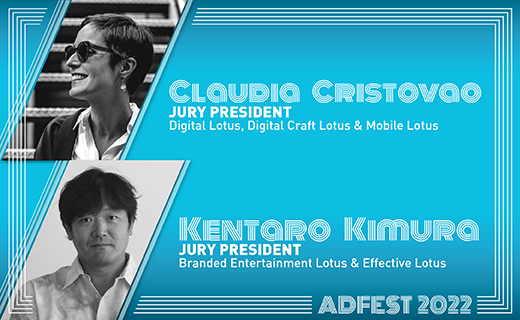 ADFEST is pleased to announce its complete Jury Presidents line-up with Claudia Cristovao from Google and Kentaro Kimura from Hakuhodo. Cristovao will preside of the Digital Lotus, Digital Craft Lotus & Mobile Lotus, and Kimura will head the Branded Entertainment Lotus and Effective Lotus.
Claudia Cristovao: Jury President of Digital Lotus, Digital Craft Lotus & Mobile Lotus
Claudia Cristovao is currently Head of Google Brand Studio, APAC. Before joining Google, Cristovao has worked as a writer, brand developer and creative director for Nike, Google, Honda, Adidas, MINI, AMEX, among others. Her projects range from art installations and digital experiences, to digital transformations. She has been selected as a judge at various award shows and is a renowned guest speaker.
"I'm delighted to be invited as Jury President for the Digital, Digital Craft and Mobile Lotus Awards, which are constantly evolving and pushing the boundaries of possibilities. We see a lot of innovation in these categories and I'm looking forward to seeing unique ideas and executions from agencies and brands alike. I want to be inspired and bowled over by the ideas I see," says Cristovao.
Kentaro Kimura: Jury President of Branded Entertainment Lotus and Effective Lotus
Kentaro Kimura, Corporate Officer & International Chief Creative Officer of Hakuhodo and Founder & ECD of Hakuhodo Kettle, joined Hakuhodo Inc. in 1992. In 2006, he established Hakuhodo Kettle, where is one of the award-winning creative boutiques. His work continues to push creative boundaries and redefine innovation. Kimura has won more than 100 awards including 10 Grand Prix and has served as a member of more than 25 jury teams for creative award festivals around the world.
"ADFEST has long been one of my favourite creative festivals. It is so full of heart, passion and commitment to put Asian creativity on the world stage. I'm honoured to be invited as Jury President of the Branded Entertainment and Effective categories and I look forward to seeing the best works from across the region during this very challenging time", says Kimura.
"We are honoured to have such an all-star Jury President line-up for ADFEST 2022. These Jury Presidents, who will also take part in judging the INNOVA Lotus and ADFEST's very own Lotus Roots and will bring their own flavour to the mix and award the best creativity coming out of the region. On behalf of ADFEST, we thank them all for their time and passion," says Vinit Suraphongchai, Chairman of ADFEST.
ADFEST is one of only eight regional festivals included in the WARC Rankings, successor to The Gunn Report. For more information, visit www.ADFEST.com
For the latest news and announcements, follow ADFEST's official social channels on Facebook, Twitter, LinkedIn and Instagram.
Ends
HEAD OF PR
Ms. Sara Fielding
Email: Sara@ADFEST.com