NEWS
WINNERS : LESSONS FROM THIS YEAR'S AUDIO, FILM, OUTDOOR & PRESS LOTUS WINNERS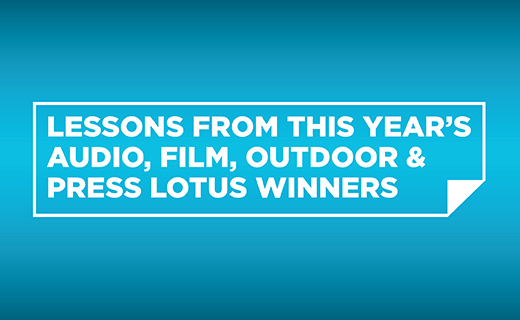 What can we learn from this year's Audio Lotus, Film Lotus, Outdoor Lotus and Press Lotus winners?
We asked jurors Abhinav Tripathi, Executive Creative Director, McCann Worldgroup India and Brandie Tan, Executive Creative Director, Wunderman Thompson Philippines, Manila for the lowdown.
What made 'Shop Unfriend', created by Wolf Bangkok with production by Factory01 for Central Department Store, worthy of winning the Film Grande?
Abhinav Tripathi: "We often use the word "clutter-breaking" in our industry. But I feel this time, this film truly deserves that title. It stands out in so many ways. It's either a fashion film that uses humor really well, or it's a funny film that's incredibly fashionable. Either ways, it breaks multiple stereotypes while being able to deliver its message very effectively."
Brandie Tan: "Shop Unfriend was probably the freshest story out of all the films we saw. Together with the story being new and the good taste in directing and production, it stood out until the very end in judging. When the friend drives away with half of the car you'd think it's the end of the story but, it's not. This makes the film unexpected, funny and worth watching over and over."
In the Outdoor category, Leo Burnett, Sydney won Gold for the 'Bonds Out Now' campaign. What did you both admire most about this campaign?
Abhinav Tripathi: "It's very hard to balance capitalism with a social point-of-view. I think we all loved how effortlessly this campaign managed to do that. It uses well established formats of advertising to proudly celebrate and encourage the LGBTQ community. For a big brand, that was a pretty bold move and it was executed with class."
Brandie Tan: "Bonds Out Now was a true Outdoor campaign. It communicated from afar with big bold letters, a short headline (the campaign has so many good things to say with only three big words) and beautiful portraits of real people. It looks and feels authentic the second you see it and was clear with what it wanted to say on several levels."
In Press, TBWA Thailand won Silver for McThai Co. Ltd.'s (McDonald's) 'Burger & Me'. Why did this campaign stand out?
Brandie Tan: "Burger & Me" stood out for its quick wit — its cleverness. There is a truth about how people love McDonald's burgers and the agency was able to show this in a fresh new way. I'm not the first to say this: the best ads don't look like they belong in their category and this places QSR in another mind space."
For the full list of ADFEST 2021 winners, visit www.ADFEST.com