NEWS
FESTIVAL : MCCANN WORLDGROUP & COCA-COLA REVEAL THEIR BRIEF FOR ADFEST'S "LOTUS SEEDS" PROGRAM – ENTER BEFORE 31st JAN!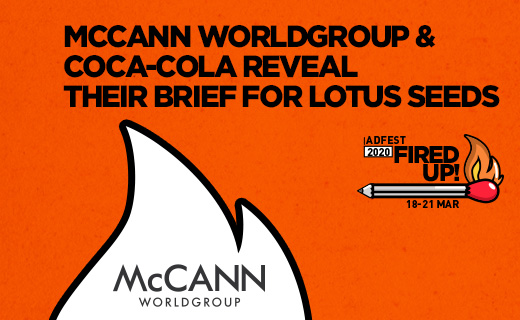 If you're a post-secondary student based in the Asia Pacific and Middle East, don't miss the chance to be part of ADFEST's first-ever Lotus Seeds program, powered by McCann Worldgroup in partnership with Coca-Cola.
To be selected as a finalist, you'll need to crack the following brief and submit your concept online before 31st January: inspire Asian youth to drink coke and bring to life the power of Coca-Cola's promise – positively uplifting people, bringing them together.
"We're challenging students to express 'the power of Coca-Cola's promise' in a new, relevant way that makes the next generation of drinkers – the younger, more cynical consumers – understand and connect with Coca-Cola's promise and ultimately give Coca-Cola a try," explains Steve Llewellyn, Creative Excellence Head of Design, Coca-Cola Greater China.
Ten finalists will be invited to travel to ADFEST 2020 and take part in a full-day mentoring program, hosted by McCann Worldgroup, followed by an exclusive Q&A session with the Coca-Cola client.
McCann will cover travel and accommodation expenses for the10 Lotus Seeds finalists attending ADFEST 2020, which runs from 18th to 21st March at PEACH (Pattaya Exhibition and Convention Hall) in Thailand.
"To be selected as a finalist, we encourage you to think 'big and iconic' and research, research, research. You need to really understand your audience if you're going to nail your insight. The medium is up to you, but your idea needs to get the next generation of drinkers excited and talking about the power of Coca-Cola's uplifting positive energy. If your idea feels like the kind-of-thing you'd hear about on reddit, then you are on the right track," says Alex Lubar, President, McCann Worldgroup Asia Pacific.
McCann and Coca-Cola are looking for ideas that will appeal to 18-24 year-olds who don't watch much TV, are skeptical about marketing claims, don't currently buy Coca-Cola, and didn't grow up with the values and promise of Coca-Cola. They seek experiences and brands that are real and authentic, and favor brands that add value and make a positive a positive impact on them and their world.
To take part in the Lotus Seeds program, you must be a post-secondary level student (design school, college, university or equivalent) currently enrolled in academic institutions in Asia Pacific or Middle East region only.
There is no restriction on age limit or academic faculty, and the fee is THB1,000 (approx. USD$33) per entry. Students must compete as individuals, not as part of a team.
Finalists will be announced in mid-February. To enter, download the brief here and apply online before 31st January. For more information, contact LotusSeeds@ADFEST.com.