NEWS
FESTIVAL : WUNDERMAN THOMPSON TO POWER 'TRANSFORMATION AGENDA' AT ADFEST BIZ SCHOOL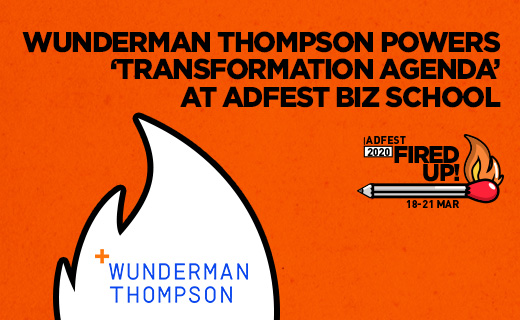 ADFEST is delighted to announce that Wunderman Thompson will power the agenda for ADFEST Biz School, a future-fit business course for a new generation of marketing leaders.
The school's Principal will be Justin Peyton, Wunderman Thompson APAC's Chief Strategy & Transformation Officer, and the course will take place from 18th to 21st March in Pattaya, Thailand.
Now in its second year, ADFEST Biz School prepares marketers for the transforming marketing landscape. Open to mid- to senior-level client marketers from across the region, the course is specifically designed to connect data, technology, and creativity with real world business fundamentals.
Wunderman Thompson APAC's Chief Strategy & Transformation Officer Justin Peyton says, "ADFEST brings together many of the best and brightest marketing minds from around the region. I am very excited about the curriculum that we have developed for them."
The curriculum features a robust range of topics, including lectures on customer experience, customer-centric businesses, ecommerce, data- and technology-amplified creativity, content marketing, and media strategies in the modern world.
As part of the ADFEST Biz School curriculum, participants will respond to Wunderman Thompson's live challenge, and will present to a panel of judges on the last day of the course. Success will be assessed by participants' ability to connect concepts from the curriculum as they look towards the future of marketing. The winning team will be presented with their trophy at the ADFEST 2020 Lotus Awards.
"The course will provide participants with strong learnings that they will be able to apply within their daily roles to drive great forward-looking works. I can't wait to see our participants apply their new found knowledge to create award-winning works." Justin said.
Wunderman Thompson is a creative, data and technology agency built to inspire growth for its clients and its people. Using end-to-end solutions at a global scale, its entrepreneurial spirit infuses creativity with emerging technology to deliver revolutionary results.
Jimmy Lam, President of ADFEST, says: "This is an incredible opportunity for client marketers to learn from the industry's leading thinkers like Justin Peyton, and creative legends like Mayan Lo. As the driving force behind ADFEST Biz School 2020, Wunderman Thompson's program is designed to teach marketers practical creative techniques and tactics they can use to grow their brands and businesses, with 10 immersive sessions held over four days."
If you are interested in taking part in the ADFEST Biz School, click here for more information or contact BizSchool@ADFEST.com