FEES & CONDITIONS
REGISTRATION FEES
There are 3 registration packages (Craft@ADFEST, Creative@ADFEST, and ADFEST), each with 3 delegate fees for Full Delegate, Young Delegate, and Student.
For registered delegates' family only, there is also a Family Pass available. The Family Pass allows access to social functions only, but not access to the festival venue, PEACH. That is, access to sessions, workshops, award presentations, or other functions at PEACH is not included. To register for the Family Pass, please contact
Noi@ADFEST.com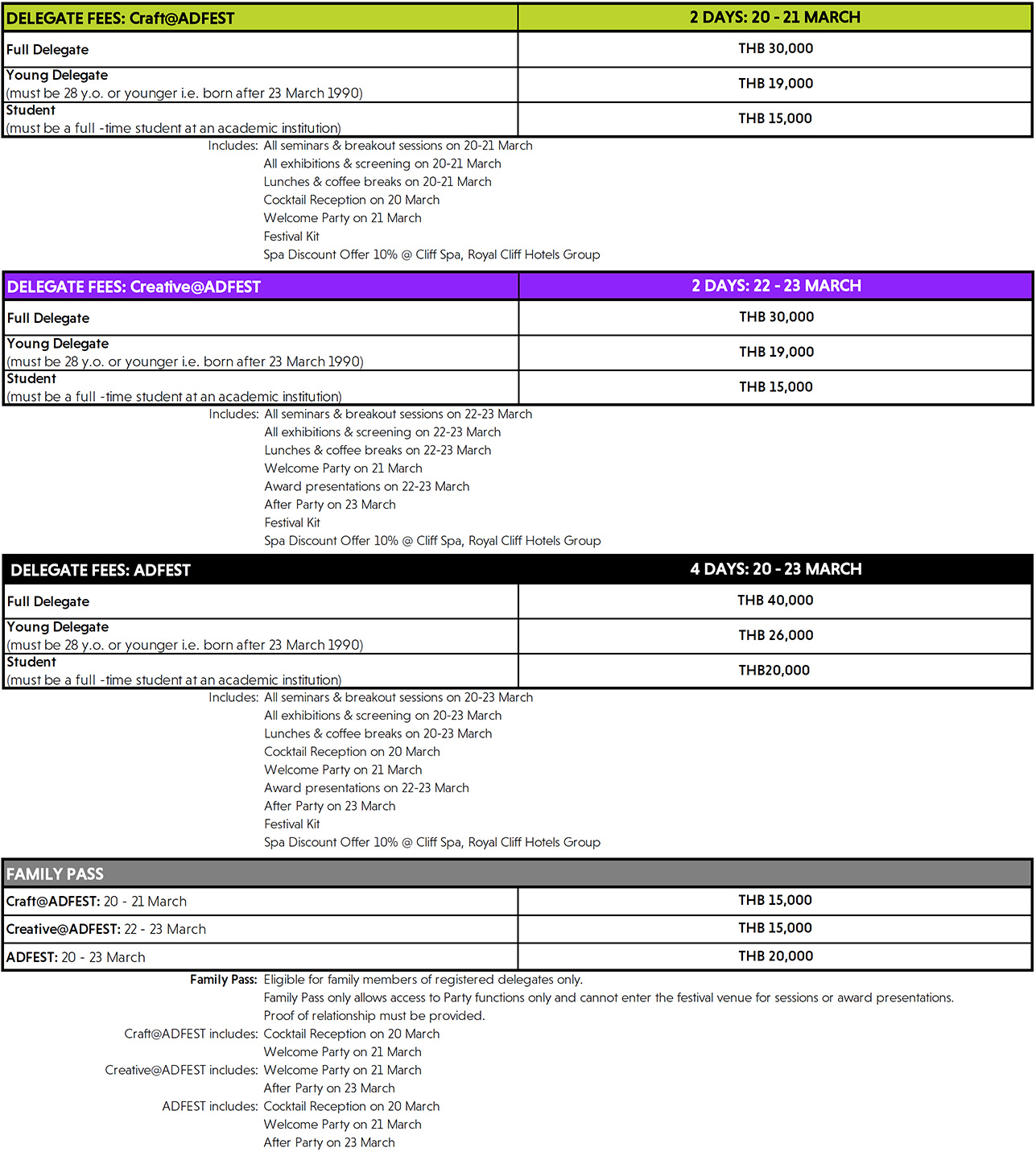 PAYMENT METHOD
•
Bank Transfer
Note: There is a 250 baht handling fee per transaction made via bank transfer. It is imperative that you cover all bank charges (all local & overseas charges borne by remitter), otherwise your registration will not be confirmed.
•
Online Credit Card Payment (via SiamPay): VISA, MasterCard, American Express
Note: There is a 3.3% charge for payment with VISA and MasterCard.

There is a 4% charge for payment with American Express
•
Cheque (for Thailand only)
TERMS AND CONDITIONS
ADFEST reserves the right to publish delegate information (but not contact information).
PAYMENT
Delegate Registration
•
Registrations are not completed until full payment has been made & verified by ADFEST.
•
Bank Transfer and Online Credit Card payment will receive an invoice in an email confirmation containing all information of the registered delegate(s).
•
For Bank Transfer, please provide your bank with the following information for the description of payment:

o

Your Delegate Reference Number. This can be found at the top of your invoice and also in the subject header of your confirmation email (e.g. D0026)

o

Company Details (Company Name & City)

o

Number & Registration Type of delegates included in the payment (e.g. 2 x Full Delegate Registrations, 1 x Young Delegate Registration)
•
Once the payment has been made, please fax or email the proof of payment/bank transfer confirmation, referencing to your Delegate Reference Number(s), to +66 2 530 9292-3 or email
Noi@ADFEST.com
Hotel Reservation
ADFEST organizer will only reserve the room(s) upon your request. Any payment, deposits, confirmation, or cancellation of the reservation must be done through the hotel directly. Cancellation policies of hotels may differ, please make sure you read the terms carefully as ADFEST organizer will not be liable for hotel reservations made by the delegate(s).
INVOICE INFORMATION
Please ensure that you have provided us with the correct invoice details before submitting your registration as we cannot re-issue invoices.
CANCELLATIONS & REFUNDS
| | | |
| --- | --- | --- |
| | • | Registration fees will only be refunded with written notice of a cancellation to the festival office. |
| | • | Refunds will be processed after the Festival. |
| | • | Registration Cancellations by 19th February 2019 are subject to 50% charge of registration fee. |
| | • | Registration Cancellations on or after 20th February 2019 will NOT be refunded. |
| | • | Registration is transferrable. |
| | • | No-shows will not be refunded. |
| | • | Delegate registration cancellations will result in the automatic cancellation of hotel reservations. Delegate is responsible for any hotel cancellation fees. |
REPLACEMENT
Any request to amend a delegate registration must be received in writing to
Noi@ADFEST.com
BADGE & FESTIVAL KIT
You can pick-up your badge and festival kit at the registration counter, which is located on the ground floor of the Pattaya Exhibition and Conference Hall (PEACH), Royal Cliff Hotels Group. Please bring your confirmation letter with you to the registration desk.
ADFEST Registration Counter operation times are as follow:
Tuesday 19th March:
8.00 - 17.00 hours
Wednesday 20th March:
8.00 - 20.00 hours
Thursday 21st March:
8.00 - 20.00 hours
Friday 22nd March:
8.00 - 17.00 hours
Saturday 23rd March:
8.00 - 17.00 hours
Please note: Tuesday 19 March is pre-registration only. The Festival will be open from Wednesday 20 March.
Your badge must be shown at all times in the Festival venue and at parties hosted by ADFEST. It is valid for registered delegates only. Failure to show your badge will result in refusal by venue security to allow access.
Loss or stolen badges will not be re-issued and delegates will have to purchase new badges.