FABULOUS FIVE
WHAT IS THE FABULOUS FIVE?
As one of the sub-categories under the New Director Lotus, Short Films by the Fabulous Five is a platform aimed to kickstart the careers of commercial directors in the Asia Pacific and Middle East. Launched in 2008 (as the Fabulous Four), the initiative has grown to receive close to 50 scripts from a dozen cities across the region.
Aspiring directors are invited to submit scripts (free of charge) for the chance to become one of the Fabulous Five New Directors. Juries of the New Director Lotus panel will vote for their favorite scripts to determine the identities of the Fabulous Five, who will be flown, accommodated, and take the stage and premiere their short films at ADFEST in Pattaya, Thailand.
In addition, all Fabulous Five films will be automatically accepted for the
Young Director Award
(YDA)
.
WHO IS ELIGIBLE?
To be eligible, aspiring directors must meet the following criteria:
Entrants must be directors or assistant directors based in Asia and the Pacific, including Australia, New Zealand, and Middle East.
Eligible Directors must have started their career after

March 2022.




Note:

No more than 2 years professional experience as a Director.
Each eligible director can only submit

one script

.
Scripts which might offend national or religious sentiments or public taste are not eligible.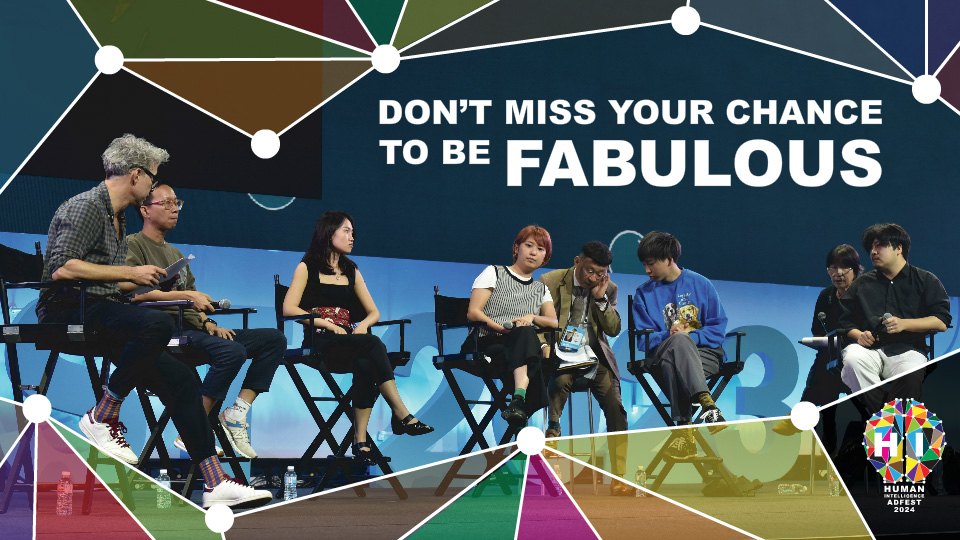 HOW TO BECOME A FABULOUS FIVE?
Each entrant submits (free of charge) a script for a 5-minute short film inspired by the ADFEST 2024 theme,
"Human Intelligence"
by
Friday 5 January 2024.
All scripts will be read by the Film Craft Lotus & New Director Lotus jury panel, who will independently vote for 5 of their favourite scripts. Scripts will be sent anonymously to all juries with no information on the identities of the directors to ensure greatest fairness and transparency.
If your script is one of the top five scripts as voted by ADFEST's Film Craft Lotus & New Director Lotus jury, you will be asked to direct the short film of the submitted script and debut your film at ADFEST 2024, held
Thursday 21 – Saturday 23 March 2024
in Pattaya, Thailand. 
ADFEST will provide return economy airfare, ground transportation, accommodation, and full delegate registration for these 5 selected directors to attend ADFEST 2024 to debut and discuss their short films at the Fabulous Five session on
Friday 22 March 2024.
To submit a script, click
here
.
SCHEDULE
NOW – Fri 5 Jan
Script submission
Mon 8 - Fri 26 Jan
Film Craft Lotus & New Director Lotus juries vote on top 5 scripts
Wed 31 Jan - Fri 2 Feb
Confirmation of the Fabulous Five New Directors
Sat 3 Feb - Fri 8 Mar
Short Film production


Note:

There is no production subsidy provided by ADFEST
By Fri 8 Mar
Deadline for 5-minute short films & 30-second trailers to ADFEST
Wed 20 Mar
The Fabulous Five New Directors arrival in Pattaya
Thu 21 - Sat 23 Mar
ADFEST 2024
Fri 22 Mar
The Fabulous Five session on stage at ADFEST 2024
Sun 24 Mar
Departure from Pattaya
HUMAN INTELLIGENCE
Is the rise of AI a threat?
Not if we move forward with our right foot and left brain.
Human Intelligence. The irreplaceable power of people, of individuals, create sums greater than the whole. Our innate emotions, instinct, imagination, curiosity, languages, and uninhibited creativity allow us to connect the unconnected, and think beyond the logical.
AI is the essential tool with its infinite possibilities.
HI is the indispensable power that makes it all possible.
We create, that is what we do.
FOR MORE INFORMATION
Nat Luevarapong
Entry Manager
+66-87-711-6903
Nat@ADFEST.com